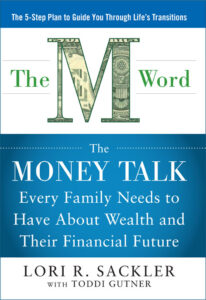 MONEY. It's the taboo topic nobody wants to broach, the elephant in everyone's living room. Not surprisingly, talking about money is a major cause of strife in U.S. households today. Planning for a family's future often prompts a total breakdown in communication, causing lasting damage. Research indicates that a staggering 70% of heirs lose their money, assets, and family harmony in the aftermath of estate transfers.
This brilliant new book is about to change all that.
Radio personality and financial advisor Lori Sackler has devoted her professional career to solving the financial problems plaguing families today. Here she introduces a set of groundbreaking tools for anyone who needs to discuss money with loved ones. She shows families how to communicate about money matters through all of life's transitions — changes in financial circumstances, remarriage and merging families, retirement, preparing heirs, and transferring wealth.
The M Word will literally change the way your family views, spends, and transfers assets, wealth, and family values. You'll learn how to approach the thorniest of subjects without anxiety or stress, and your family will reap the benefits of secure financial planning for generations to come. Using the author's five-step action plan to successfully prepare for, initiate, and execute the "money talk," you'll be able to:
UNDERSTAND WHY THE MONEY TALK IS CRUCIAL AND CHALLENGING FOR FAMILIES

TACKLE THE ISSUES THAT ACCOMPANY WEALTH TRANSFERS AND LIFE'S TRANSITIONS

OVERCOME THE ROADBLOCKS THAT CAN KEEP FAMILIES FROM COMMUNICATING

PREPARE YOURSELF AND YOUR FAMILY — LOGISTICALLY AND PSYCHOLOGICALLY — FOR THE MONEY TALK

PICK THE RIGHT PROFESSIONALS TO GUIDE YOU THROUGH A COMPLEX FINANCIAL WORLD

CREATE A PROCESS FOR REPEATED TALKS THAT CAN KEEP YOUR FAMILIES AND FINANCES INTACT
The M Word shows you and your family how to negotiate all aspects of financial planning for all generations.
"Most financial planning books breeze over or ignore the really tough money decisions. Not this book. It tackles all of life's major challenges to help you really plan your financial future, not just dream about it… I'm ordering books for my sons and stepsons so we can have the 'Money Talk' Lori's book encourages."
—Martin M. Shenkman,CPA, MBA, PFS, AEP (distinguished), JD, Estate Planning Attorney, and Author of 42 books on estate and related planning